Ljubljana Castle | Ljubljanski grad
Grajska planota 1, Ljubljana
Slovenia, Europe
Earth, Milky Way
---
Ljubljana Castle is one of the main landmarks of Slovenia's capital. It is situated on the Castle Hill rising above the historic Ljubljana Old Town in the core city centre.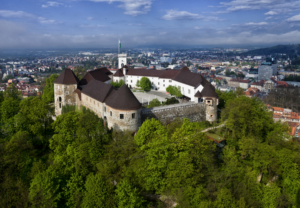 ---
Arriving to the venue
There are several ways to come to Ljubljana Castle. We recommend coming by funicular or on foot, especially if this is your first time in Ljubljana, as it is very scenic, and have a walk through the old historic part of the town centre beforehand.
runs 9:00 – 21:00, every 10 minutes | tickets: single 2,2 €, return 4 € | You can buy ticket on spot or online | lower station location: Krekov trg 4.
Several footpaths lead up to the castle: |1. from Vodnikov trg via Študentovska ulica which splits into two paths: Za ograjami and Ovinki |2. from Stari trg via Reber or |3. from Gornji trg turn left into Ulica na Grad: both split into 3 different access paths up to the castle: Osojna pot, Osojna steza, Mačja steza |4. up the road Cesta slovenskih kmečkih uporov | all taking about 10-15 min from mentioned starting locations.
From Streliška ulica | there is a parking lot in front of the castle courtyard entrance. It is s free of charge. The number of spaces is limited (=80), so make sure you come early. Some alternatives for parking in case this one is full:
Parking spaces in Streliška street and surrounding streets (park on white-line areas, pay with cash (or Urbana card) at the machines, have € change in stock; on Saturdays, you pay only until about 13:00 o'clock, then it is free of charge).
Find a list of parking spaces and garages in Ljubljana, provided with a map, real-time availability and prices -> most central: Petkovškovo nabrežje parking spaces | Parking lot NUK II | Parking garage Kongresni trg | Center Parking garage | Parking House Šubičeva (last two are private/ pricier).
You can find more detailed Ljubljana castle access information here.
---
Conference Rooms Location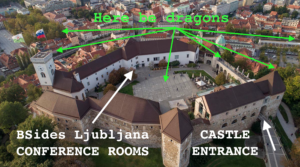 ---
Travelling to Ljubljana, Slovenia
By plane
If you're coming from abroad, the following airports are good choices:
Ljubljana Airport (30min to the venue)
Zagreb Airport (1:45h to the venue)
Klagenfurt Airport (1:40h to the venue)
Graz Airport (2h to the venue)
Venice – Marco Polo (2:40h to the venue)
Venice – Treviso (2:40h to the venue)
Vienna Airport (4h to the venue)
Transfers and taxis

GoOpti is a low-cost transfer company which operates between the above airports. Book it online at least one day before travelling. The earlier, the better.
Check for transfers from Ljubljana Jože Pučnik Airport also on www.lju-airport.si (30 km ~20EUR by taxi or ~9EUR by shuttle)
Ljubljana taxi services – best prices with: Taxi Intertours +386 80 311 311, +386 31 311 311 or Taxi Metro +386 80 11 90.
By train or bus
---
Accommodation
Some recommendations regarding accommodation
Hotels
Allegro Hotel (in old part of town)
Hotel Galleria (in old part of town)
Antiq Palace Hotel (in old part of town)
Art Hotel
Hotel Mrak
Best Western Premier Hotel Slon
Hotel Lev
City Hotel Ljubljana
Hotel Park
Hostels
Hostel Vrba
Sax Hostel
Vila Veselova Hostel
Hostel Tresor
---
Ljubljana info: Visit Ljubljana
---
Here be dragons…